| | |
| --- | --- |
| NATLAB |   |
| Mon and Tue | CLOSED |
| Wed and Thu | 15:00 - 23:00 |
| Fri and Sat | 15:00 - 00:00 |
| Sun | 11:00 - 22:00 |
| | |
| --- | --- |
| THE CAFÉ |   |
| Mon and Tue | CLOSED |
| Wed and Thu | 17:00 - 23:00 |
| Fri and Sat | 17:00 - 00:00 |
| Sun | 11:00 - 22:00 |
Buy your tickets 24/ online. You can also buy tickets at Natlab, however we sell only tickets for shows that start on the same day.
| | |
| --- | --- |
| TICKET PRICES | |
| Regular | €11 |
| Student/CJP | €7 |
| Children | €5,50 |
Once purchased, tickets are not refundable or exchangeable for another programme or date.
Do you want the opportunity to watch an unlimited number of films at Natlab (and more than 40 other film theatres in the Netherlands) for only € 22,50 a month, get a Cineville pass! More info here.
Unlimited access to all newly released films, for only € 22,50 or even € 18,50 (if you're under 30) a month. Sounds like film utopia, right? That's exactly what Cineville is supposed to be! More info here.

PLEASE NOTE:
The surcharge for a Cinevilleticket cannot be refunded after cancellation.
Whether you are crazy about film, love eating or are very excited about both, the Natlab giftcard always is a wonderful present.
Buy your giftcard online or at the counter of Natlab, download one of our festive envelopes and make someone happy!
We currently don't accept other giftcards.
Are you a member of We Are Public? Then you can get a free ticket for selected films and performances on the day itself. For more information, visit wearepublic.nl.
The map below shows the various parking areas of Strijp-S.
Do you use a navigation system? If so, enter destination address Kastanjelaan 103. You will be led to the house opposite Natlab. From here, it is easier to reach the parking facilities.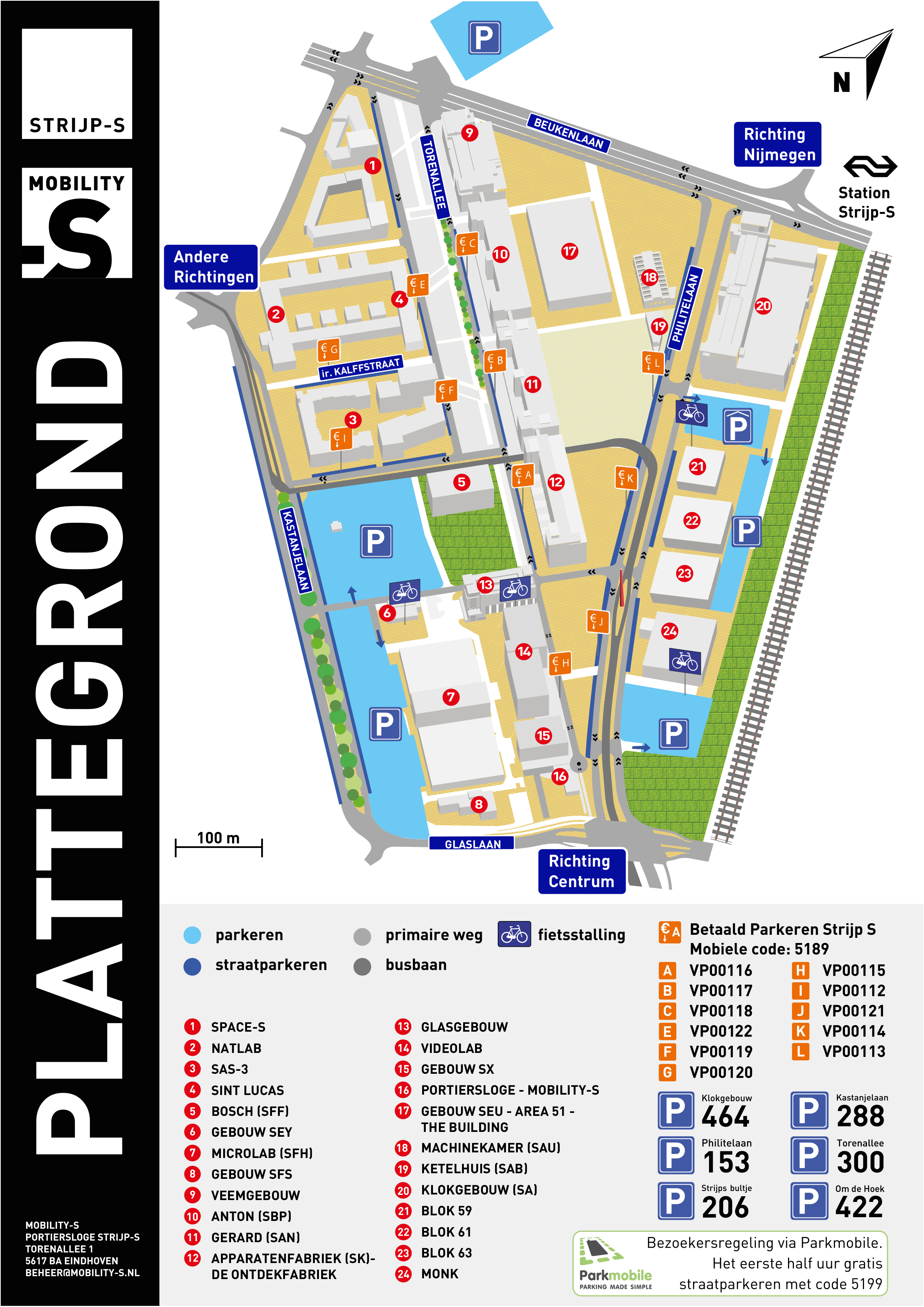 Train station Strijp-S is within a ten-minute walk from Natlab. If you arrive at Eindhoven Central Station, take bus 401, 402 or 403 and get off at bus stop Cederlaan.
CONTACT INFORMATION EMPLOYEES
PROGRAMME
Rafke Engels
rafke@natlab.nl

EDUCATION
Rica Pietersen
educatie@natlab.nl
rica@natlab.nl

CAFE - RESTAURANT
Corinne Wouterse and team
corinne@natlab.nl
horeca@natlab.nl
040 294 68 42 (cafe)

PUBLIC SERVICE & VOLUNTEER MANAGER
Yvonne Rave and team
yvonne@natlab.nl
040 294 6848
RENTAL DEPARTMENT
Tatjana Brinkman
verhuur@natlab.nl
040 294 68 49
MARKETING & COMMUNICATION
Joep Peeters, Sarie Bekker & Eva Boekhoorn
communicatie@natlab.nl
TECHNICAL DEPARTMENT & FACILITY
Joost Verest en team
theatertechniek@natlab.nl - 040 294 68 47
filmtechniek@natlab.nl - 040 294 68 43
FINANCE
Ingrid Winters
ingrid@natlab.nl
HR
Karin Niessen
karin@natlab.nl
EXECUTIVE ASSISTANT
Loes van der Linden
loes@natlab.nl

MANAGEMENT
Ilona van Heeckeren


THIS WAY, VISITING NATLAB IS ENJOYABLE FOR EVERYONE!
BE ON TIME
If you go to see a film, show or do another activity, you'll want to fully go with the flow. Latecomers can disturb visitors who arrived on time, so we do not allow entry into a screening room when the film, show or activity has already started.
PHONE ON SILENT
Do not forget to switch off your phone before the start of the film or performance, so that you do not disturb others.
CANCEL TICKETS
Unfortunately tickets are not refundable or exchangeable for another programme or date.
Only if a film or performance does not proceed as announced can a replacement film or performance or refund be offered.
AGE LIMITS
According to the law, young people under the age of 16 are not allowed to access a feature film with the age limit of 16, even when accompanied by an adult. ID may be requested. For films with the other age limits, children under the age limit are only admitted if accompanied by an adult.
FOOD AND DRINKS
It is not allowed to bring your own food and drinks. Get a nice drink or food at our cafe and bring it into the screening room. Do not hinder fellow visitors and avoid rattling cups.
Take glasses, wrappers and cups with you after the film ends. This way the room remains clean for the next visitor and you can expect to be in a tidy place as well.
NO IMAGE AND SOUND RECORDINGS
Visitors are not allowed to take photos, film or make sound recordings during a film or performance, unless prior permission has been given by Natlab's communication department.
Natlab itself regularly takes photos of activities and programs. For reporting and to share on our own communication channels.
PIN ONLY AT OUR RECEPTION
Buy your film ticket online! At Natlab, you can only pay by card. Sometimes there is some confusion about the (mandatory) acceptance of cash. The law says that bills and coins, like debit cards, are legal means of payment. However, it is not an obligation to accept all means of payment as long as we clearly indicate this.
The General Visitor Conditions of the VSCD apply at Natlab.